Yesterday evening, I had to do something scary. Or, be brave – which is the same but makes me sound better. So, I was being brave. I went to a writing group meeting at my local library and everyone in attendance read out a five minute piece of work. In front of everyone else. I didn't know anyone.
See how brave I am?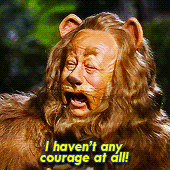 The thing is, even though I read too fast and half-way through was distracted by the thought that I hadn't washed my teeth after dinner (I didn't remember until the end that I hadn't had dinner yet), it was great. I met nice people, with similar interests, who gave me some feedback on my work (and my reading speed). No one booed me off the stage or made me cry, no stood up and shouted, "you're a fake!" and I managed to not spontaneously combust.
And if I can do it, you can too.
What's more, chances are your library or neighbourhood house does something similar. And, if not, you my find that there's a writers' group in your community. From attending this one event, I've learnt about a group in a town ten minutes from mine and I'm going to visit next week. Maybe we'll be a good fit for each other, maybe we won't but I won't lose anything by going and there really is so much to gain from having your work critiqued (fancy word for constructive feedback) by others.
Don't be put off by your age, either. The librarian running last night's even told me that she's headed up a youth writing group in the main library for the past three years, so seek out something similar at your library or suggest it to your librarian. Or maybe you could encourage your English teacher to start one at school. It is definitely daunting sharing your work with others, but in a safe and respectful environment, it can also be really exhilarating
Do you already share your work with others? Or, do you have a writing group you go to? I'd love to hear about it.